Counseling • Social Skills Groups • Testing/Assessment
Specializing in the Testing and Treatment of ADHD,  Learning Disabilities, Autism Spectrum Disorders (ASD),  Learning Disabilities and Anxiety Disorders of Childhood and Adolescents.
Counseling • Social Skills Groups • Testing/Assessment
Specializing in the Testing and Treatment of ADHD, Learning Disabilities, Anxiety Disorders and Autism Spectrum Disorders (ASD) of Childhood and Adolescents.
Learn More about our COVID-19 Response
Individual Therapy
Couple and Family Counseling
Pastoral Counseling
EMDR
Educational Consulting
Educational Support
Transitional Coaching
Social Skills groups will be meeting online until it is deemed safe to meet in-person during the COVID-19 Pandemic.  Our fun, goal driven groups are open to kindergarten thru young adult. Focusing on social issues with peers and adults, enviromental challenges during social distancing, finding social connections, making friends, expressing and handling frustrations, improving self-confidence/self-esteem.
ENROLLING NOW FOR SUMMER! 
Fast 2 Week Turn-Around
Autism/Aspergers Testing
Educational Testing
Emotional Functioning
Psychological Evaluation
Adaptive Behavior
School Admission Testing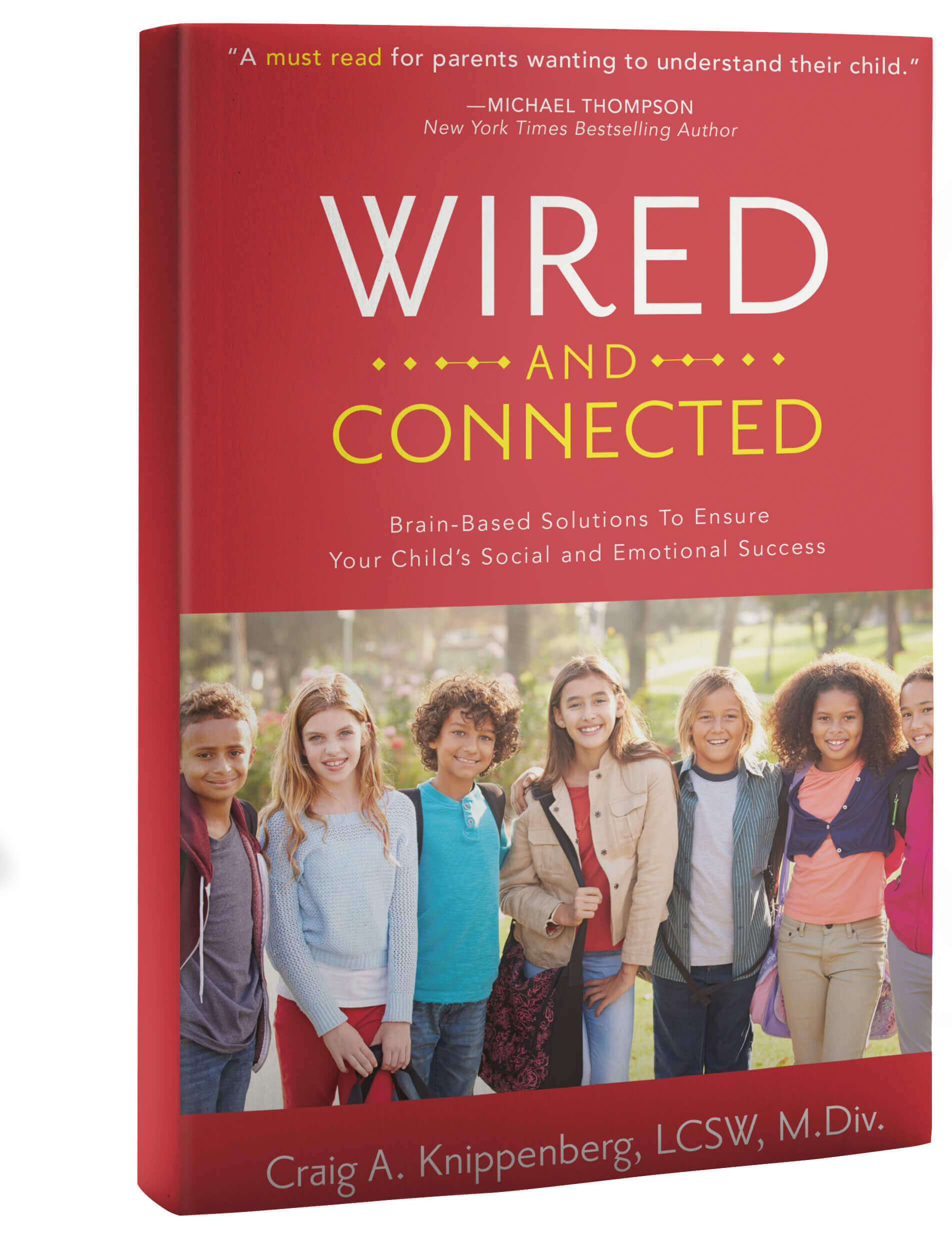 Now Available!
#1 Bestseller in e-books for school aged children!
Wired and Connected.  Brain-Based Solutions To Ensure Your Child's Social and Emotional Success.   
Knippenberg, Patterson, Langley and Associates is excited to announce, that our founder, Craig Knippenberg's long awaited book  has been published!
Leaders in the field of children's mental and physical health are raving about the new book, Wired and Connected (Illumify Media Global).
This book is being called the "must have" manual to understanding and helping your child to succeed and thrive!
Craig's teachings are rooted in building or improving a child's self-confidence and self-respect so that your child can navigate and master his own social and emotional well-being.
This book is the exact how-to guide for parents to give their children that very skill. Parents of teen's will also learn about the brain basics for their now teen's social and emotional functioning.
Our Response To COVID-19
Providing both online and in-person counseling, psyco-educational testing and online Social Skills Groups.  
Saftey remains our highest priority and we will continue to assess the sitution and make any necessarry changes.
The COVID-19 Pandemic  has been extremely challenging for families, adults and children.
We have all been asked to make enormous sacrifices to our normal routines and paused activities outside of our homes.  This new normal has created frustrations, feelings of isolation and challenges as we reimagine our daily-lives and find ways to bring back yesterday's routines.
As a mental health practice, we too have had to redefine the scope of our practice. We have listened to our clients and watched as the social and emotion needs have drastically changed. Our clients have had to find ways to adapt to a new normal, with lack of autonomy, intense living conditions and overall less freedoms inside and outside the home.
The team at Knippenberg, Patterson, Langley and Associates have been working tirelessly to bring our research-based, social-skills groups to an online platform.  We are very encouraged with the positive feedback we have received about our adapted online model that we have been able to provide the same quality of care in an online setting. 
 As always, at KPLA, any level of care begins with a FREE phone consultation with Marian Curtis, a Licensed Clinical Social Worker (LCSW), who is our Client Care Coordinator.   She will listen to you and take time to understand and address your unique concerns.  Marian will help you to determine if Knippenberg, Patterson, Langley, and Associates is going to benefit you and your family and direct you to the appropriate KPLA professional best suited to your needs.  In the event we are not an appropriate fit, she will make every effort to provide you with a referral source outside of our practice.
Due to the specialized nature of our social/emotional development groups, an initial no-cost evaluation session is offered to parents and students whose presenting issues fall within the treatment range for our unique model. For students whose presenting problems fall outside this range, or for those who present with more significant difficulties, we will offer a more appropriate referral within or outside of our practice.
We specialize in client-centered treatment for preschool aged children through young adults. For 30 years, KPLA has offered  socialization/social-skills groups, in addition to providing psycho-educational testing and individual and family/couple counseling, with a focus on: 
ADHD
Learning Disabilities
Autism Spectrum Disorders (ASD)
Anxiety Disorders
Depression
Educational Support
Young-Adult Coaching/Therapy
Family Support
To find out more about our practice and be connected with Marian Curtis, LCSW, our Clinical Care Coordinator: